About half of the pregnant women in ­Australia are not getting enough iodine, according to the latest research.
Iodine is an essential element used to make thyroid hormone which regulates the body's metabolism and is vital for normal brain ­development. Thyroid hormone is made in the thyroid gland located in the front of the neck.
Insufficient ­iodine can lead to brain damage in the ­unborn baby resulting for example in learning difficulties and a lower IQ.
­According to the World Health Organisation, iodine deficiency is the world's greatest cause of ­preventable intellectual disability in children!
Iodine deficiency in pregnancy can also cause miscarriage, premature birth, stillbirth and goitre (swollen thyroid) in the mother.
The average Australian diet contains about 130mcg (micrograms) of iodine per day, although a healthy adult needs 150mcg. 250mcg is needed in ­pregnancy and lactation.
Do you need a supplement?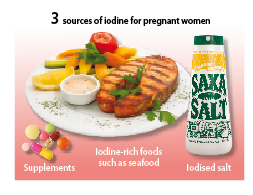 Women who are trying to conceive or who are pregnant or breastfeeding should take a daily iodine supplement of at least 150mcg. Many pregnancy supplements have no iodine or very little, so chose your product carefully.
You should also replace the salt you use with iodised salt (salt with added iodine). Iodised salt is now added to most breads.
Eat foods rich in iodine. Good sources of ­iodine are dairy products, seafood, and eggs.
Women with thyroid conditions (­particularly Grave's disease) should ask their doctor ­before having extra iodine as this can be harmful in some cases.
For more info speak to your GP or go to www.thyroidfoundation.com.au or www.iccidd.org.
Disclaimer:
Please note this information was correct at time of publication.
For up to date information, speak to your doctor.