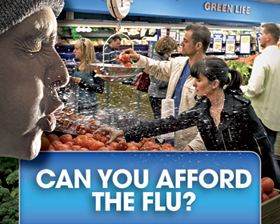 The influenza season will be here soon and nearly 500,000 Australians could catch the flu this year. Free vaccine is available if you are at high risk of severe infection or complications.
Vaccination is the best defence against flu and it should be given now, in autumn. A single vaccine is required each year to stay protected.
Free vaccine for those at high risk
The flu can cause pneumonia, hospitalisation and death in vulnerable people. Those at high risk who are eligible for free vaccine include:
All people aged 65 and over
Aboriginal and Torres Strait Islanders from 15 years of age
Pregnant women
People with a chronic illness such as:

Heart disease
Diabetes
Chronic lung disease, including COPD and severe asthma
Impaired immunity eg from HIV/AIDS, long-term steroid use, cancer
Chronic kidney disease
Neurological (nervous system) disease such as multiple sclerosis or epilepsy
Pregnancy
The flu vaccine is recommended for women planning pregnancy and for pregnant women who will be in the second or third trimester during the flu season, including women in their first trimester at the time of vaccination.
Do healthy people need the vaccine?
It doesn't matter how fit or healthy you are, you are still at-risk of getting the flu. The flu is highly contagious. One sneeze can spread the flu virus up to one metre.
Vitamins don't stop the flu – remedies such as v­itamin C and echinacea have not shown any benefit.  Antibiotics do not work against viruses.
Remember, you can't catch flu from the ­vaccine as it does not contain any live virus.
Ask your doctor if you need a flu shot. Go to www.immunise.health.gov.au for more information.
Disclaimer:
Please note this information was correct at time of publication.
For up to date information, speak to your doctor.